You are purchasing White Sage smudge sticks in quantities of 1 each

Each stick is about 4 inches long. 
Key Questions

Where is the product grown?  Southern California. 
Are these items organic? As native species, they are naturally resistant to most diseases. No chemicals are used to grow our sage.
Is it wrapped in plastic? No plastic is used to wrap these items.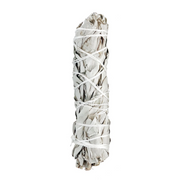 White Sage